Welkom to this site Trio Tangata.nl
Click hier voor more sound bites


Trio Tangata is a Tango ensemble, composed of three fine musicians, who are, for many years already, specialists in the Argentine Tango.
In an innovating and unique style they compose arrangements of the tango music by Troilo, Pugliese, De Caro, Di Sarli, .Piazzolla, Salgan, Mores, etc.
Furthermore they perform their own special compositions written by the pianist MMarkerink. Her music shows us the Argentine tango is still in full development.
The musicians from Trio Tangata were members of the grand tango- ensemble "Tango Dorado" , and with them they toured in Holland and abroad.

With sense for drama, precision and master-skills Trio Tangata presents the Argentine tango in a performance full of energy.
The group went on tour in Holland and abroad, like Toscana tour , recent to France, Belgique, and went 2 years before aswell to the heart of the tango: Argentina: Buenos Aires.
Trio Tangata has made 2 CD's : "mis cosas favoritas" and "Historias del Sur".
Guest-singers: José Rivero and Lilian Vieira on the last CD.

Trio Tangata worked with several professional dance-couples, and since recently more often with Carlos & Mirella from Dancalegria http://www.dancalegria.com/node/70

With wonderfull singer Jeannine Geerts they perform a new wonderful show, filled with energy and melancholia.http://www.youtube.com/watch?v=P3IlV0tZcUA

In 2008 the pianist Margreet Markerink got the first price in the national composing competition for new tango dance-music, so called "Choclo"award.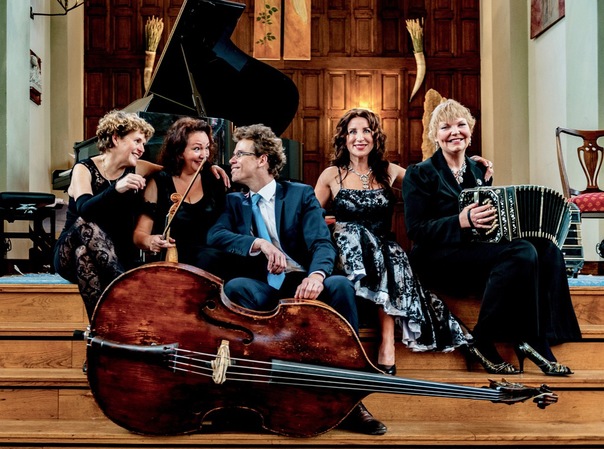 On facebook Trio Tangata can be followed:http://www.facebook.com/TrioTangata
TRIO TANGATA'S NEW CD ''ENCUENTROS'' (Meetings) is available!!
It was in 2008 that the first CD from Trio Tangata appeared: "Mis cosas favoritas", recorded together with singer José Rivero.
In November 2011, Trio Tangata brought its second CD out: "Historias del Sur", recorded together with José Rivero and Brazilian guest singer Lilian Vieira.
Since 2011, Trio Tangata has been working together with singer Jeannine Geerts which has lead us to surprising new developments in our music

Bandonéon: Jacqueline Edeling
Piano: Margreet Markerink
C-bas: Suze Stiphout

Extra:
C-bas:
Adinda Meertins,

Singer :
Jeannine Geerts (NL)
José Rivero (Argentinie/ A'dam)
Lilian Vieira (Brazilie/ Utrecht)
© Trio Tangata